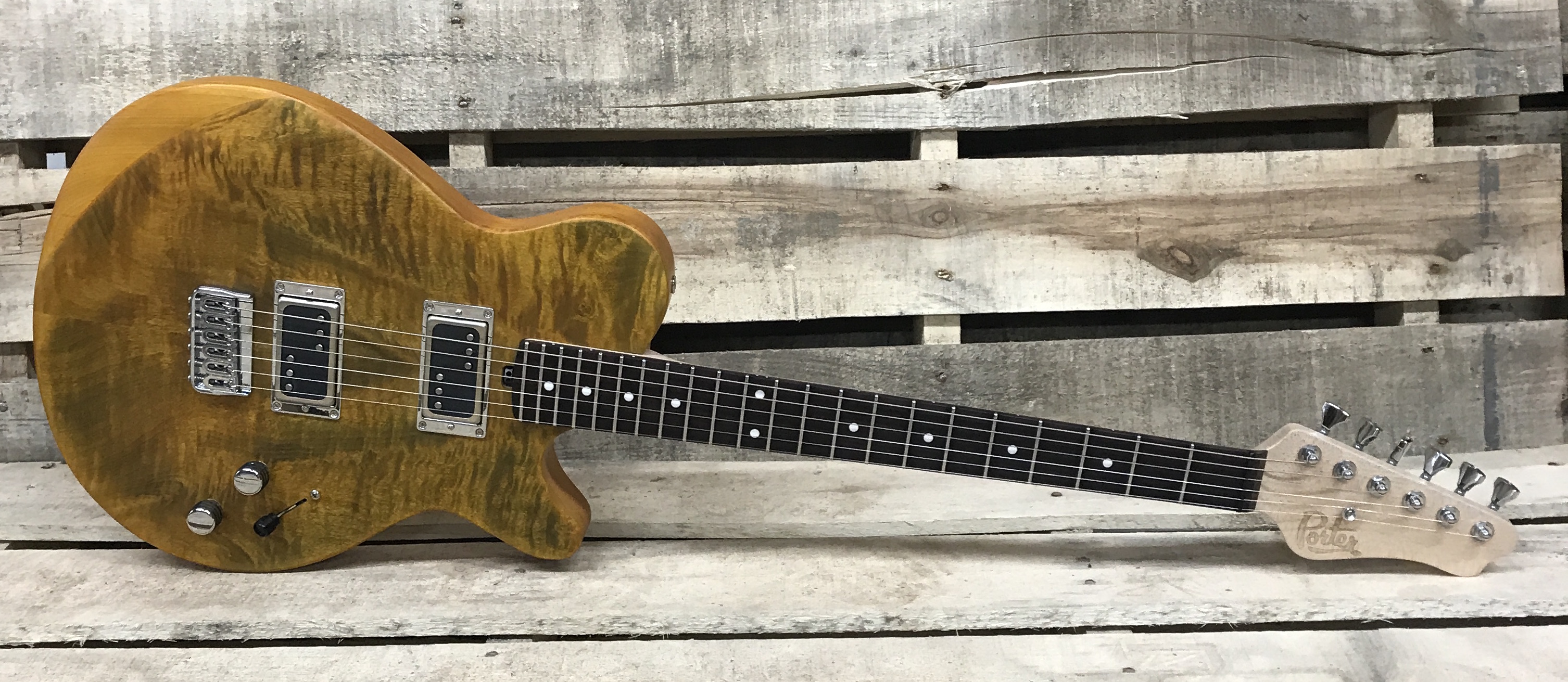 Woods and Trees
The Les Bois is named after Boise, ID and the word in french means "woods and trees." The Les Bois was created for a more fixed pickup and single cut variation of our first guitar, the Khrosis. Both guitars utilize the same necks, but the Les Bois is a slightly bigger body and shows off more of the wood of the guitar. The Les Bois design leans itself to a familiar yet unique feeling guitar that is built to last!
Each model is available in several options and custom configurations. Let us help you design one!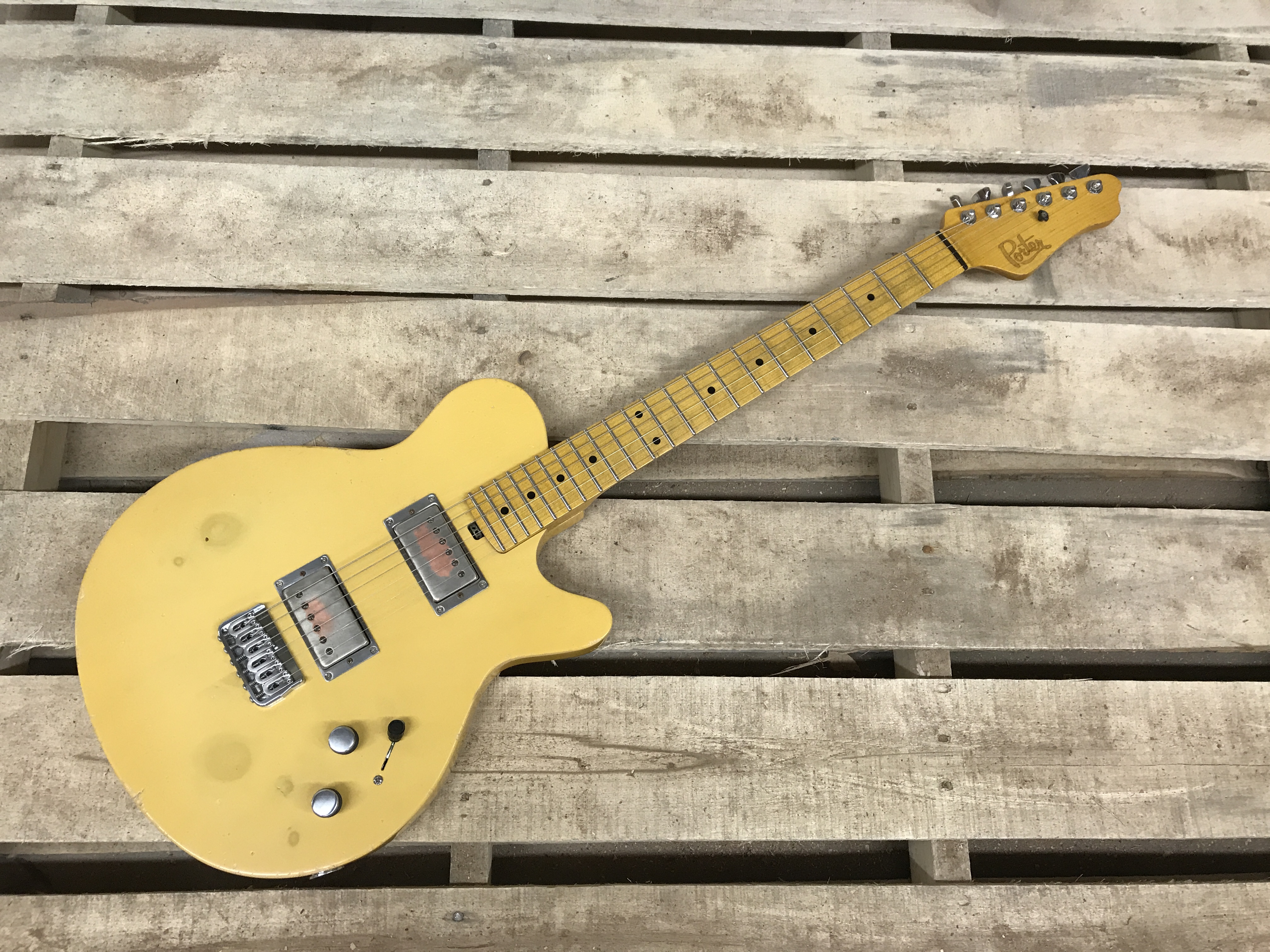 Les Bois Standard – $2,499
Our Standard line Les Bois includes solid colors, Alder Body, Maple Neck and Maple or Pau Ferro Fretboards
Les Bois Semi Hollow – Starting at $2,699
The Les Bois is now available in semi hollow form! We have a few options for the semi hollow spec wise. It features the same construction with 3 unique oval chambers and a F-Hole. Prices are determined by options. Please contact us to order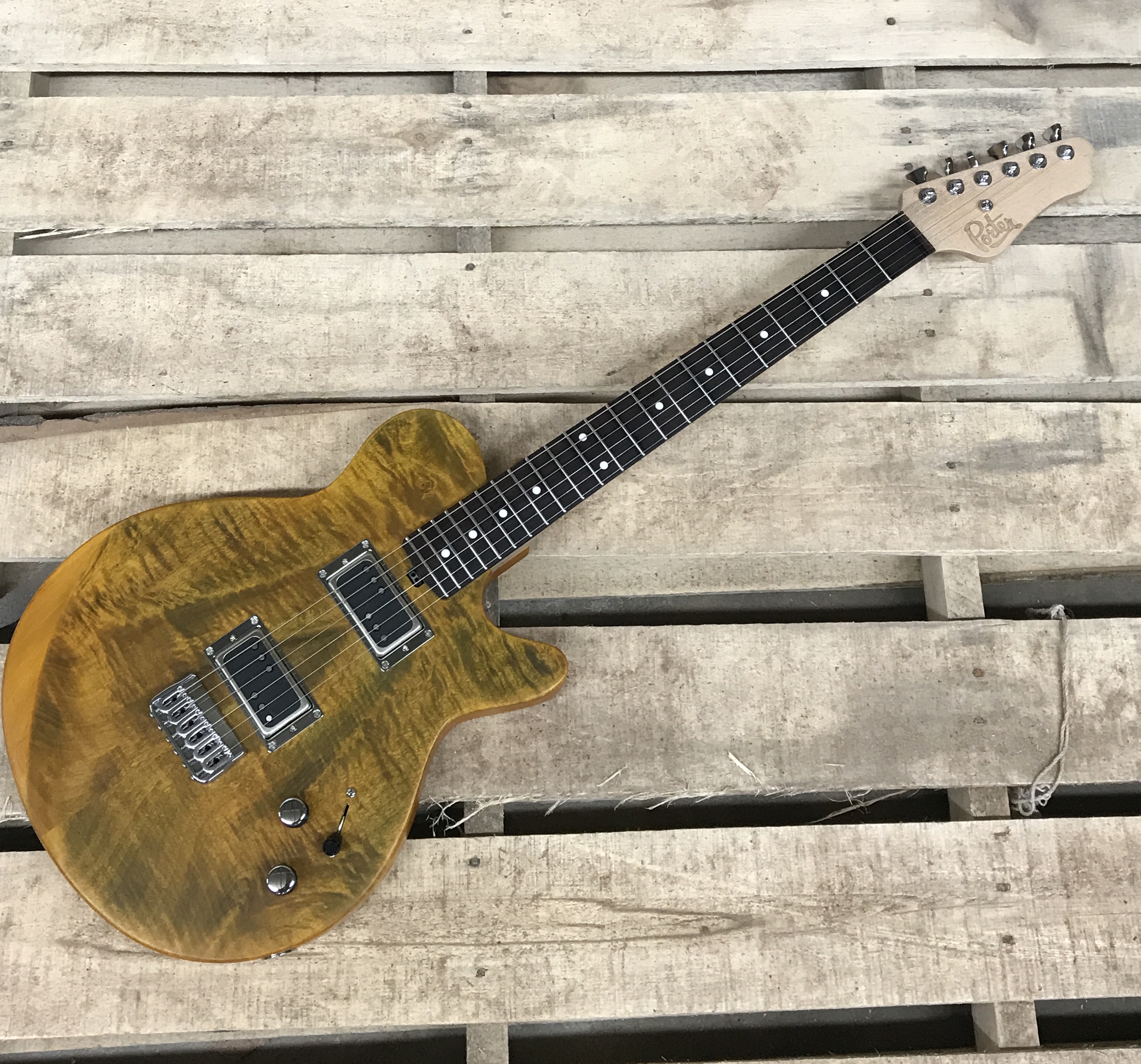 Les Bois Contoured – Starting at $2,649
We've also added a few more options to the Les Bois with contours! We add a slight tummy cut and forearm bevel for a comfortable axe you'll want to play all day! Prices are determined by options. Top woods will transition into the body wood on the forearm contour for a killer effect. Please contact us to order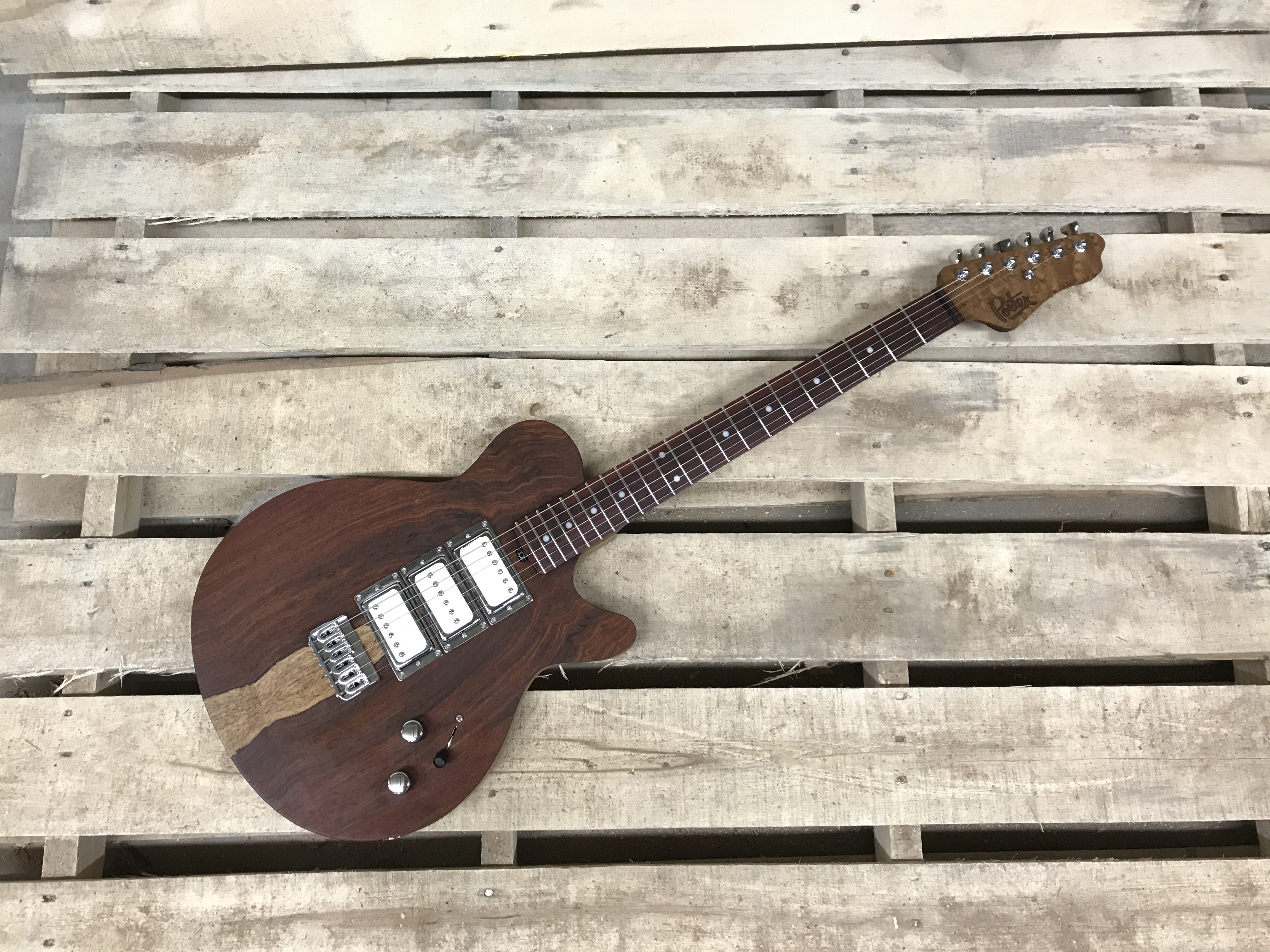 Les Bois Exotic Top – Starting at $2,999
The Les Bois with exotic wood top. Create your own unique vision of the Les Bois.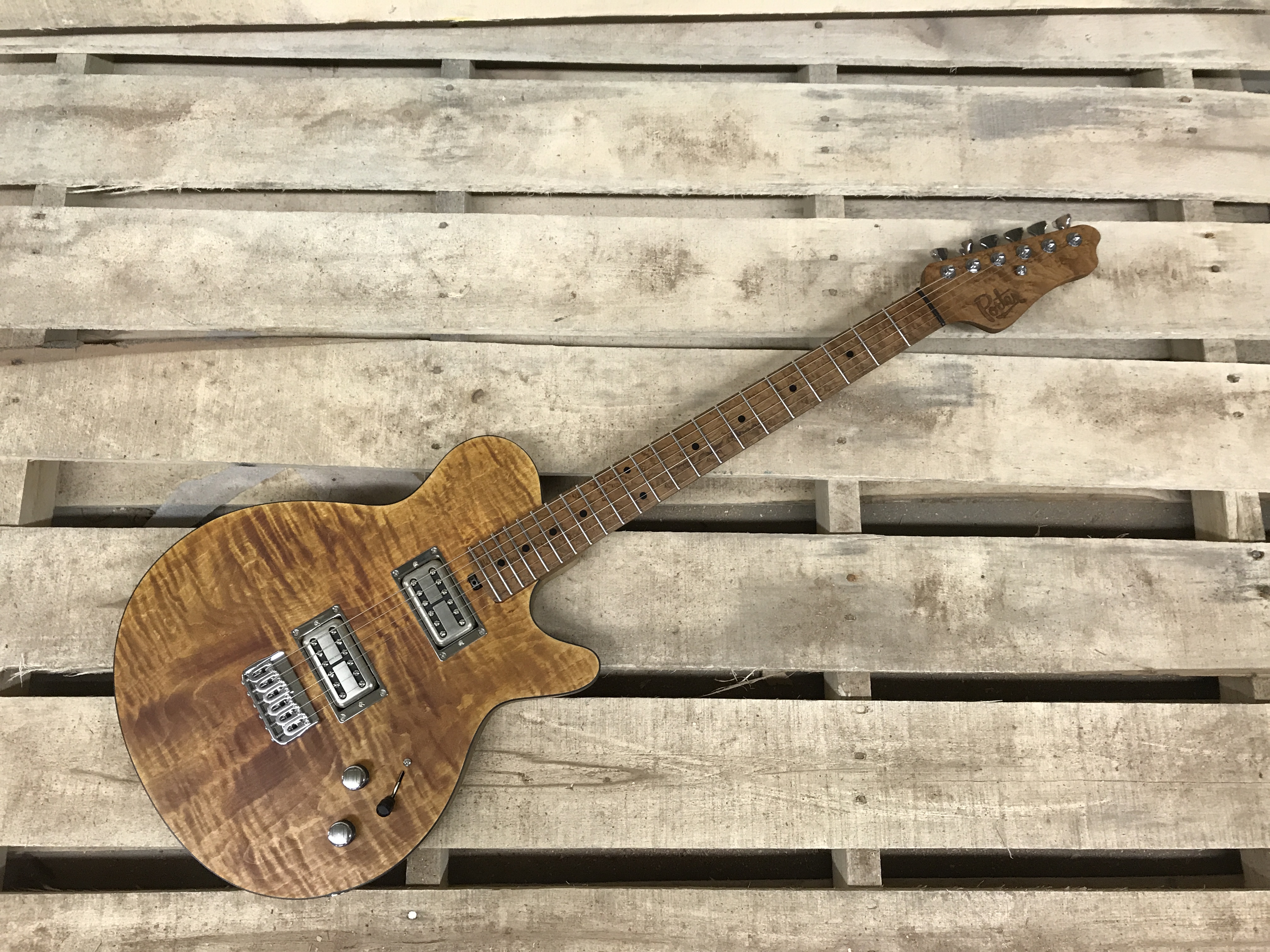 Les Bois Flame Top – Starting at $2,799
Les Bois model with curly maple top. Stained or natural options and several upgrades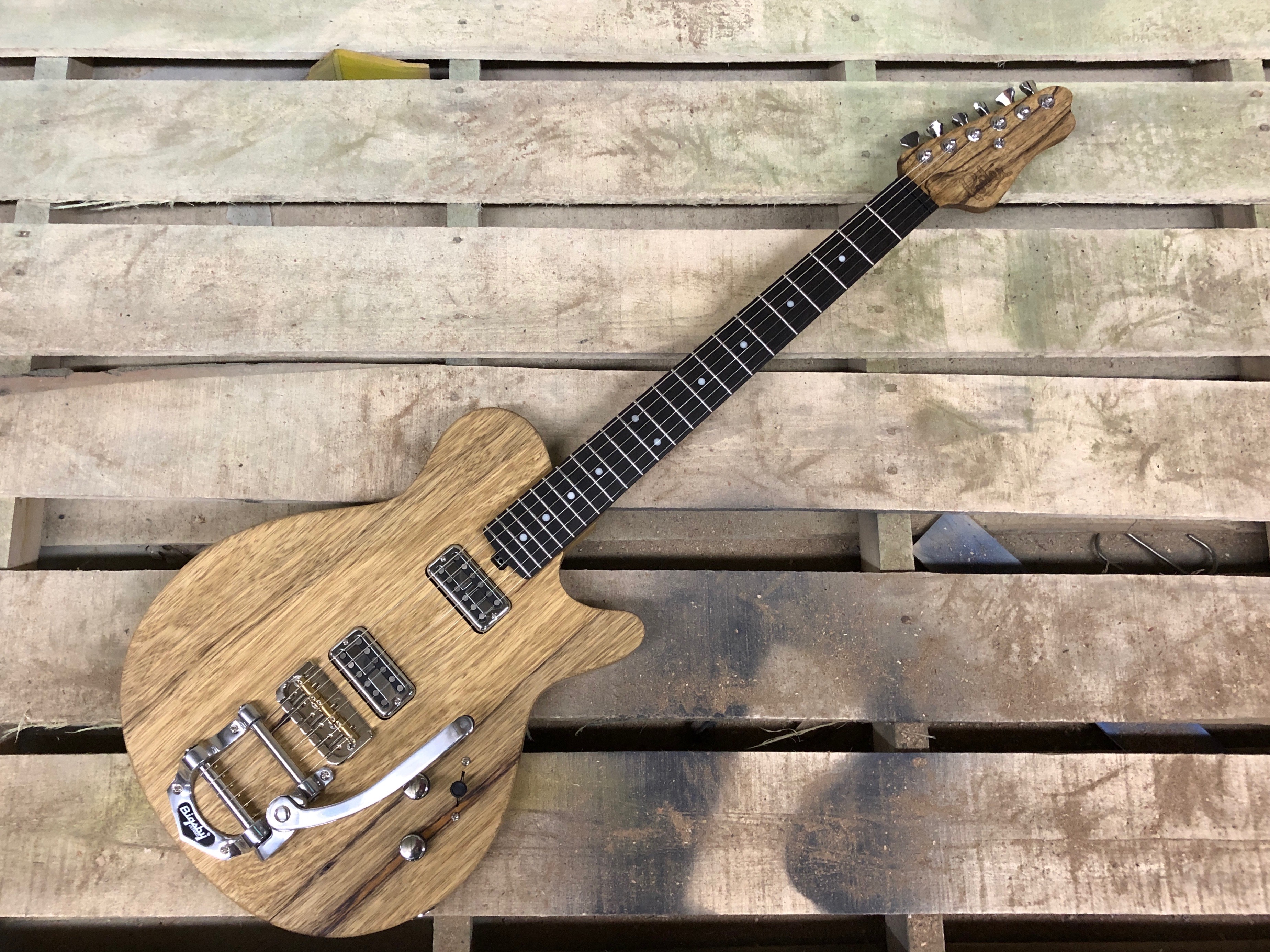 Les Bois Bigsby – Starting at $2,799
Les Bois model with Schroeder Cut Bridge and Bigsby Trem. Contact for order information. 
Hipshot Hardware: Bridge, Open Gear Locking Tuners, Ferruels, and Knobs
Choice of Pickup Configuration (Depending on Model Teir)
Dunlop Flush Mount Strap Locks
Electronics: CTS Pots
Graphtech Nut
12″ Radius Fretboard, Medium C Shape, Medium Jumbo Stainless Steel Frets standard on all guitars
Threaded inserts in neck-great neck to body contact and resonance
High quality hand selected woods
Made in our shop in Boise, ID USA
Upgrade Charges (Retail Price)
Wood Upgrades
Neck: Mahogany, Black Limba or Roasted Birdseye +$150
Body: Swamp Ash, Mahogany or Black Limba +$200
Fretboard: Ebony, Indian Rosewood, or Roasted Birdseye Maple +$75 Other woods: Prices vary*
Les Bois Configuration Upgrades: All Custom Models Start $2,499. Upgrades are determined by configuration and wood options
Les Bois Flame Top +$300
Les Bois Exotic Top* +$400
Les Bois Contoured (Solid or Transparent Finish) +$150
Les Bois Contoured Flame Top (Transparent Finish) +$300
Les Bois Contoured Exotic Top* +$500
Les Bois Semi Hollow (Non Flame top) +$200
Les Bois Semi Hollow Flame Top +$350
Les Bois Semi Hollow Exotic Top* +$550
Les Bois Bigsby +$300
Les Bois Bigsby Flame or Exotic Top +$350
Other Upgrades: Custom pickup configuration +$150
*Woods chosen for exotic and flame top are subject to additional charges depending on grading and our cost of the woods. We will always do our best to find the best grains for the price you pay.
Wood and Wood Regulations All Porter guitars are hand selected woods and many times we offer high end custom shop quality within the different price offerings. Please note with some regulations on international woods, all non USA orders will include only woods which aren't subject to export issues. Please contact us prior to ordering to make sure we give you the available alternatives.
Finish Notes: We currently use a combination of dyes and stains for maples and transparent colors. We frequently use multiple oil based and water-based finishes for health and safety reasons. We do not offer other finishes expect by contact work which will add significant lead time to your build in addition to costs.